Place of Supply Rules For GST & HST
by L. Kenway BComm CPB Retired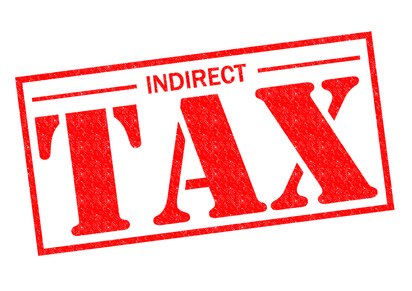 Place of Supply Rules
Effective May 1, 2010, the place of supply rules for intangible personal property and services changed.
General transitional rules were in play from May 1 to June 30, 2010. As of July 1, 2010, they are now based on customer location instead of supplier location.
New rules went into play for QST in 2019.
What You'll Find In This Chat ...

✔ Place of Supply Flowchart
✔ 2019 QST Registration Rules for Non-Residents
✔ Out of Province Sales
✔Online Sales
✔ Internet Sales - Inside Canada & From Outside Canada
✔ GST ITCs and US Purchases
✔ Selling Remote Services to the US
✔ Exporting Commercial Goods
2019 - New QST Registration Rules for Non-Residents
New rules QST registration went into effect January 2019 for Foreign Specified Suppliers (FSS) and Specified Digital Platform (SDP) operators. September 2019 are when the Canadian Specified Suppliers (CSS) go into effect.
KPMG points out in their December 2018 TaxNewsFlash that these new rules affect businesses that do not have a physical presence in Quebec, are not QST registered and sell Quebec consumers services, certain goods or intangible goods such as downloads of digital music, software, movies, TV shows or games.
DBO's article "TAX ALERT – APPLICATION DATES APPROACHING ON NEW QST REGISTRATION RULES FOR NON-RESIDENTS" is a good read for those needing more information as well as KPMG's TaxNewsFlash.
GOOD

T

O

KNOW
Three New QST Suppliers Criteria
The BDO article (see link above for the entire article) defines each of the three suppliers as follows:
An FSS is a supplier who:
does not carry on a business in Canada;
does not have a permanent establishment in Canada;
is not registered for GST/HST purposes; and
is not registered for QST purposes under the regular QST system.
A CSS is a supplier who:
does not carry on a business in Québec but does in other provinces;
does not have a permanent establishment in Québec;
is a GST/HST registrant; and
is not registered for QST purposes under the regular QST system.
Please note that a non-resident supplier who is a GST/HST registrant is a CSS and not an FSS, since as a registrant it is considered to be carrying on business in Canada.
An SDP is a digital platform where an operator:
enables another person who is an FSS or a CSS to make a taxable supply in Québec of an intangible product or service through the use of a digital platform; and
controls the essential elements of the transaction between the non-resident supplier and the Québec customer such as billing, the terms and conditions of the transaction and the terms of delivery.
The small supplier rule applies. This means the threshold for registration is $30,000 based on sales made to individual consumers in Quebec in the preceding 12-month period.
Please note there are no offsetting ITCs as BDO explains this new system is strictly a QST collection system on sales made to consumers in Quebec.
KPMG points out, "Although the new rules will no longer require specified Quebec consumers to self- assess QST on supplies received from suppliers outside Quebec, these self- assessment rules will continue to apply to other customers in Quebec that purchase supplies from suppliers outside Quebec, including suppliers registered under the new QST registration system. For example, an entity that is registered for QST purposes will not qualify as a specified Quebec consumer and may still be required to self-assess QST on supplies purchased from non-resident suppliers if those supplies are not inputs into the entity's commercial activities."
If you have Quebec sales, contact your accountant on what you need to do going forward and how to implement these place of supply rules in 2019.
Place of Supply Rules for Out of Province Sales Tax

The question often arises, especially with online internet sales; what are the rules pertaining to GST / HST tax rates on out of province sales? Here's my understanding.
Place of supply rules come into play when you buy or sell out of your province. There are four supply categories  ... each with separate rules and specific differences for certain groups:
GOOD

T

O

KNOW
May 1, 2010 was an important HST transitional date. October 14, 2009 was also an important date for those who had to self-assess. Are you tax compliant?
You can find more information in:
✔ CRA's Technical Information Bulletins B-103 Place of Supply Rules under the HST which includes HST place of supply rules for intangible personal property and services effective July 1, 2010;
✔ B-079 Self-Assessment of the HST on Supplies Brought Into a Participating Province; and
✔ B-080R Rebates of HST on Supplies Made From the Participating Provinces.
goods,
real property,
services,
intangible personal property.
In general, if you reside in an HST province (called participating province), and make a sale to a GST province (called a non-participating province), you would reduce the tax charged from the HST to the GST rate.
However, if the out-of-province customer picked up the goods in your province, then you must charge the full HST rate. Either way it is tax neutral to you as you get to claim all relevant ITCs associated with the sale if you are a GST/HST registrant.
And generally, it's the opposite if you are a non-participating province (GST) and sell to a participating province (HST). You must charge the HST rate to out-of-province sales unless the customer physically picks up the goods in your province.



New place of supply rules for intangible personal property and services became effective May 1, 2010. Old rules relied on the supplier's location. New rules place greater reliance on where the consumer is located. This means you will now need your customer / client's address.
Place of Supply Rules for Online Internet Sales (Virtual or Electronic Commerce)
Do you have to charge GST/HST on internet sales (online sales) in Canada? Have you been wondering what CRA's views on virtual income and expenses are?
Canadian electronic income (income earned online) is treated the same way as traditional commerce income. Income taxes and value added taxes (GST/HST) apply to both.
When CRA talks about virtual or electronic commerce, it relates to supplies made and transacted over the internet. For their purposes, there are two types of electronic supplies:
supplies of intangible property; and
supplies of a service.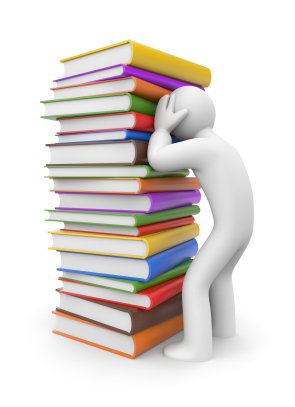 CRA clearly state that a supply made by electronic means is NOT a supply of tangible property.
For the purposes of GST/HST:
Web hosting and web design are considered a service (not a telecommunication service which has different supply rules).
Downloads (digitized products) are considered intangible property.
Packaged software (shipped) is considered a good.
Ernst & Young have an excellent article on the tax issues surrounding cloud computing and its borderless nature. Cloud computing is defined as "share infrastructure in which large pools of systems are linked to provide IT services". It has a list of questions the cloud business user and the cloud service provider should have covered/considered. See TaxMatters September 2012.
Place of Supply Rules for Internet Sales  Purchased From Inside Canada
If you are shipping goods inside of Canada that were ordered online over the internet, GST/HST applies.
After April 30, 2010, the general rule if you are electronically selling services or intangible property to a Canadian resident is ... the GST/HST rate applies according to the location of the end user/customer. As of May 1, 2010, it is no longer based on the location of the where the service originated.
That means these rules apply to the purchase of digitized products like eBooks and services such as web hosting and web design.
How Internet Sales From Outside Canada Affect GST/HST
Non-resident Sales Tax Rates
GOOD

T

O

KNOW
2014 Federal Budget on Foreign Based e-Commerce Sales to Canadians

Of interest in the February 2014 federal budget is the consultations the government is beginning to address what actions should be taken on sales tax collection of e-commerce sales to Canadians by foreign based vendors.
One proposal is to require these foreign vendors to register for, collect and remit tax on sales to Canadian residents.

If you are shipping goods outside of Canada that were ordered online over the internet, the goods are zero rated (which is different than exempt) and therefore NO GST/HST is collected.
The general rule if you are electronically exporting services or intangible property to a non-resident person (defined as the billing address is outside of Canada without a permanent establishment in Canada) who is not a GST/HST registrant, you do NOT charge GST/HST as it is zero rated.
I understand this to mean electronic supplies (intangible property and services) are zero rated if exported.
Check CRA's GST/HST Technical Information Bulletin B-090 GST/HST and Electronic Commerce for more details.
It is worth mentioning that eBay sellers were selected for audits in the fall of 2009. Their online income should have been reported on Form T2125 when filing their personal tax returns ... and applicable GST/HST should have been collected and remitted.
Place of supply rules are complex ... you don't know what you don't know. No one said small business taxes in Canada would be simple. If you feel you need specialized advice in this area, you may want to visit the website of David Sherman, Canadian tax lawyer.
Place of Supply Rules for US Purchases
Can You Claim A GST ITC For US Purchases?

A forum question stated the following: I was wondering if we can claim the GST input tax credit for business goods & services purchased from the US? Some places do charge it to Canadian customers and it's visible on their receipts, but others do not.

Secondly, if we earn an income from a US source, do we claim GST on that as well?

Yes you can claim your GST ITCs on U.S. purchases. Just check out that they are a valid GST/HST registrant first. The amount you can claim should be clearly shown on the invoice / receipt and show their registration number. If it doesn't I email them and request the information for my business records.

As you noticed, not all your U.S. purchases are charged GST/HST. That is because only U.S. businesses with a permanent establishment or presence in Canada must register and charge the tax. I talked about this when discussing online / electronic income above.

Generally, U.S. income is zero rated, so you don't charge GST/HST ... but you need to make this decision pertaining to your business under the new place of supply rules. That means most, not all, of your affiliate / commission income from the U.S. is zero rated.

Here is the general rule again for digital sales originating in Canada and exported to the U.S.

If you are electronically exporting services or intangible property to a non-resident person who is not a GST/HST registrant, you do NOT charge GST/HST as it is zero rated. A non-resident is defined as the billing address is outside of Canada without a permanent establishment in Canada.
Place of Supply of Rules for Exporting Commercial Goods Checklist

If physical goods are exported, Customs will charge all duties and taxes when it crosses the border. If physical goods are imported, Customs will charge the applicable taxes and duties necessary.
If you are exporting goods outside Canada, review this checklist for exporting commercial goods from the Canada Border Services Agency (CBSA) before you export. It was designed to be used with their step-by-step exporting guide.
Another place to check is the Canada Business Network for exporting regulations. There is a section on importing country requirements that is worth taking a gander at.
If you export to the U.S. The Canadian Trade Commissioner Service has a guide for Canadian businesses exporting to the U.S..
The eCommerce Foreign Affairs' website states "Canada believes that electronic commerce provides new ways of doing business, opens new business opportunities and that it is still commerce rather than a new sector. Canada considers that existing multilateral agreements and frameworks already apply to electronic commerce" ... "From an international trade policy perspective, what is needed is greater clarity in applying existing international trade rules to electronic transactions."

You can find a framework for promoting growth of the North American online marketplace on their site. When discussing eCommerce trade policy issues in WTO negotiations (June 25, 2013), one of the questions being asked is, "Should the current moratorium on customs duties applied to electronic transmissions be extended?"
I started out this research trying to determine if any of the states in the U.S. had eCommerce sales/use tax on Canadian internet transactions. From what I can tell, the answer is no but I'm not confident in this answer because I haven't found any one place that talks directly to the topic.
You may be interested in this chat about CBSA Duties and GST Payable.
Place of Supply Rules for Selling Remote Assistance Services to the US
If you sell remote assistance for software services to US do you charge HST, state taxes or nothing?
It is my understanding that when you export your services to the US, sales tax is zero rated.

The rules may be slightly different if the US business has a permanent establishment in Canada.
If you have a business presence in the U.S., the rules are different. I have no experience with or knowledge of U.S. state tax requirements. However, it is my understanding that use tax applies only to tangible personal property for U.S. businesses / residents at this time. I believe all sales from outside the U.S. fall under international tax treaties.
Expect that to change in the near future as countries including Canada are in the process of studying how to deal with internet related businesses and sales. For example, the 2013 T2125 introduced the requirement to list all websites that you earn income from (including affiliates who sell your products and  services) as well of the percentage of total income is from these sales. Canada is actively consulting with various interest groups so expect changes.
I recommend that you seek the professional advice of a CA or CGA to ensure correct treatment of your revenue stream ... preferably a cross border specialist.
Place of Supply Flowchart

Every time I think I have figured out the rules, I read another article that makes me think I've interpreted the rules incorrectly. So I went searching for something that clearly explains the rules for small business.

I know there are very complex rules out there for large corporations, non-profits, the construction industry, individuals like doctors and dentists ... which includes recapture of input tax credits (RITC) and self-assessment requirements.

But for the most part, I deal with small home based businesses ... so the complex rules will not apply. I wanted some kind of write up that will once and for all give me the confidence that I do in fact understand the new rules and have not interpreted them incorrectly.
Deloitte's Flowcharts and Table Make HST/GST Place of Supply Rules Easy To Understand
Well I found it on Deloitte's website (www.deloitte.com) under Indirect Tax and Customs. They released a news article on March 12, 2010 called Proposed Harmonized Sales Tax Place of Supply Rules Released.

In their 2010 write up, there were two flowcharts, one for intangible personal property (IPP) and another for services. You just follow through answering "yes" or "no" at each box to arrive at the correct answer. Both are presented below along with some proposed exceptions to the rules.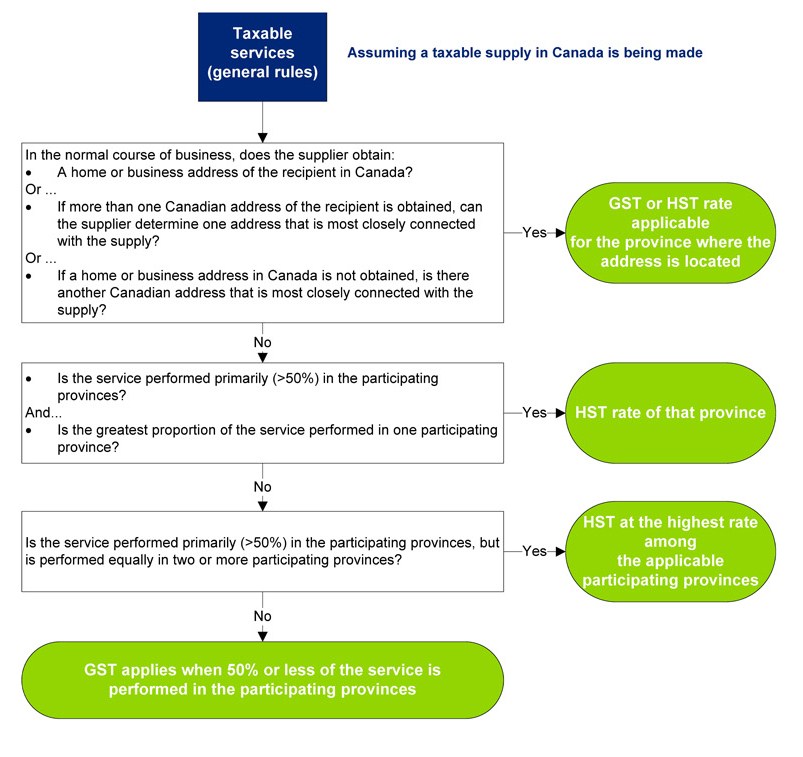 As stated above, included in the original article was a table that lists exceptions with the general rule and notes.

The original article, however, is no longer available on their website as these rules took place in 2010. However here is their table on the proposed EXCEPTIONS to the place of supply rules for services and IPP.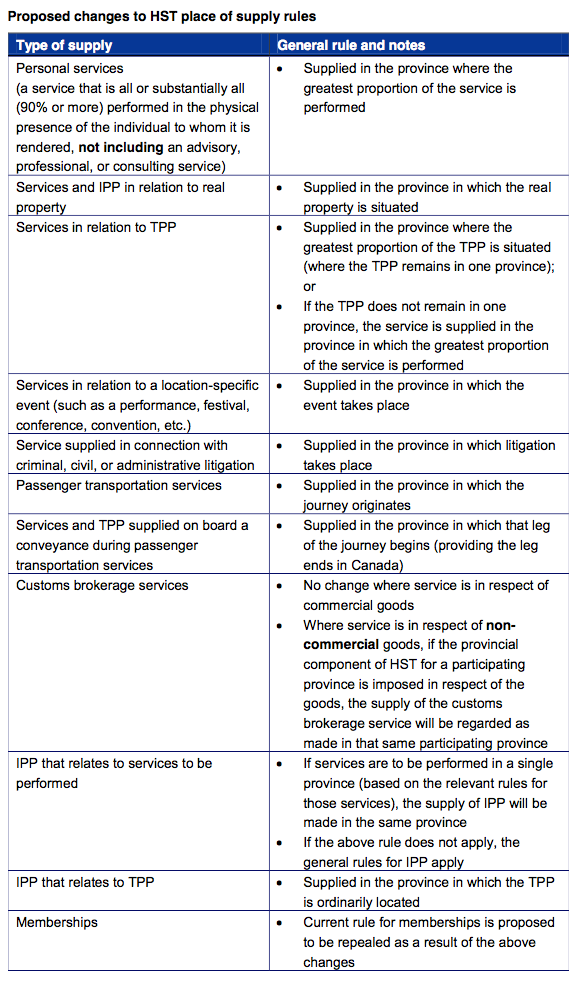 BEFORE RELYING ON THIS TABLE, please double check that these exceptions to the rules were in fact approved / enacted.
The Ontario CGA Association also prepared a very comprehensive document on the coming HST changes ... titled Harmonized Sales Tax in Canada Ontario Edition. It included information on BC. It is easy to read and worth a look. 


Here is the link: http://www.cga-ontario.org/assets/file/HST.pdf
Now if they would just make one of these place of supply rules flowcharts on sales to the U.S.!!!

It's been great chatting with you .
Your tutor Lake

---
---
---
A Guide to Understanding GST/HST in Canada

Click on any image below to go to the chat.
Place of Supply Rules Flowchart
Charge the Right Rate!


Invoice Presentation Rules,
3 Methods of Accounting

Self Assessing Out of Province Purchases, PST Basics in BC
---
---
---