Company Cheque Personal Expense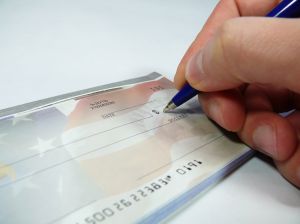 Company cheque or credit card used to purchase personal expenses
We purchased an ATV and my husband wrote it on the company account but it should have been a personal cheque. How can I fix this?





If this is an incorporated company, code the purchase to your shareholder loan account. Then make a contribution with a cheque written on your personal account for the exact amount as the company cheque. Code your personal cheque to the shareholder loan account. The two entries will offset each other.
The entries would be:
Company Cheque Written For a Personal Expense
DR Shareholder's Loan
CR Cash in Bank
Personal Cheque Deposited to Company Account
DR Cash in Bank
CR Shareholder's Loan
If this is an un-incorporated company, run it through the owner's draw and owner's contribution accounts instead of the shareholder's loan account.