Learning QuickBooks®

Beginner's Forum For Business Owners Working From Home
by L. Kenway BComm CPB Retired
What You'll Find In This Chat

Learning QuickBooks® to avoid beginner's mistakes ... gives you a hint about what this chat is all about ... tips on how to use QuickBooks® software correctly.
While I will chat about how to use QuickBooks®, please understand that this page is directed to work from home small business owners who do their own bookkeeping.

It is not intended to instruct the "power" users or advanced users of QuickBooks® ... there are a lot of sites out there that cover that material better than I ever could.
So pour some tea into your favorite teacup and let's get started.
Advertisement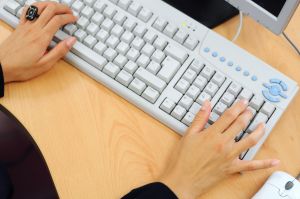 QBO Canada Customizing Your Sales Tax Codes
Let me walk you through how to setup some customized sales tax codes that will make your data entry easier when learning QuickBooks® Online Canada.
Learn how to setup the meal split code in QBO Canada and how to setup a self-assessing PST code.
These two videos can assist you in preconfiguring your sales tax setup in the QuickBook Canada desktop (not online) version:
B.C. video to switch from HST to GST + PST.
P.E.I. video to switch from GST + PST to HST.
We are not going to be shooting the breeze about QuickBooks® POS software ... or a whole lot about advanced inventory ...

... just useful QuickBooks® tips, tricks and traps that will hopefully make your bookkeeping time more efficient ... and enjoyable ... so you have accurate financial information to make smart business decisions.

You'll find a spot to ask your QuickBooks® questions at the end of this page.



                              

goo

d bookkeeping practice


T

HE

BOOKKEEPER'S

|

TIP    

Do You Have The Latest Version?
Do you have the latest version of QuickBooks 2012 or 2013? Are you using a version from 2011 or earlier? Are you aware of Intuit's sunset clause?
The 2014 version is now out. I don't switch until I know they have release 3 or higher is out. I think R1 and R2 are for those people that love the beta experience.
To check your version, press F2 (or Control + 1) and the Product Information window will open.
You can have these maintenance updates happen automatically by ensuring the Automatic Update feature is turned on.
QuickBooks Canada (and the U.S. too) only supports the last three versions of QuickBooks. This means QuickBooks 2011 will no longer be supported as of May 31, 2014. This means you will not be able to obtain technical support or business services (such as payroll or downloading your bank transactions) relating to the 2011 version after this date.
If you are learning QuickBooks® with a 2011 version, now may be the time to upgrade.
The 2014 version now lets you attach a document to a record, is supposed to automatically handle bounced cheques, have easier tracking of all income, and some improvements to the payroll center.


Learning QuickBooks® ... The Tips
I want to start by saying that you need to be kind and patient with yourself as you are learning QuickBooks®. The program was designed for small business owners and is user friendly ... but there are a few things that have to be done a certain way.
Here are links to a few tips on QuickBooks® procedures that you should learn to ease your learning curve and make your bookkeeping go smoothly:

Vendors - Accounts Payable - Expenses


When to use Pay Bills vs Write Cheques

✔ Pay Bills is used if the bill you are paying is sitting in Accounts Payable
✔ Write Cheques/Expense is used if the bill you are paying was NEVER entered into AP


How to adjust GST ITCs for meals and entertainment

✔ CRA only allows you to claim 50% of your input tax credits for meals

Customers - Accounts Receivable - Sales


T

HE

BOOKKEEPER'S

TI

P

How To Record Online Business Income

NEVER use Make Deposits in QuickBooks to record online business income. Interest income ... okay. Earned business income ... not okay. Why?
An important concept when learning QuickBooks is to remember it has modules ... one for customers, one for suppliers, one for employees.
You need to use the correct module to enter your data if you want it to report properly. Otherwise garbage in, garbage out as they say.

In the case of online business income such as affiliate fees, eBook sales and webinar sales, you must enter it into the customer module if you want your sales tax reports to federal, provincial, state and/or territorial governments to report correctly.
Most affiliate income earned online is not paid out immediately. If you use the accrual basis of accounting, you should be creating a bill at the end of each month for the amount you have earned. When the money is deposited to your account anywhere from 10 days to 6 months later, use Receive Payment to record the receipt of cash.
If the amounts you are earning are immaterial, for example you receive a $50 payment about every 6-12 months, it would be acceptable to not setup Accounts Receivable each month and just create a Sales Receipt when the money is deposited to your account or you receive the cheque/check in the mail.
Other information on doing business online:

H E L P !     My A/R ledger is out of balance!!!!

When learning QuickBooks, sometimes you goof. (GASP) If your Accounts Receivable ledger balance does not equal your Accounts Receivable subsidiary ledger balance, then you know you've goofed somewhere in your process. Check:
Your Open Invoice report to ensure payments were applied to invoices. If they haven't, they will show up in the Open Invoice report.

Your Open Balance report if your Undeposited Funds account is growing or you can't find customer payments. Look to see if any deposits were made directly through Make Deposits or even the banking register bypassing the Accounts Receivable subsidiary ledger.

                              

goo

d bookkeeping practice


T

HE

BOOKKEEPER'S

|

TIP    

Naming Convention For AR and AP
When you have a business or person that is both a customer and supplier, use this naming convention:
Joe's Plumbing - c ... for the customer (c) name and Joe's Plumbing - v for the vendor (v) / supplier name.
No more guessing the name, initials, abbreviations!
Banking - Cash


Company - Period End Closing
Government Compliance
What trouble are you having learning QuickBooks®?
Learning QuickBooks® ... The Shortcuts
The QuickBooks® accounting system has keyboard shortcuts to make data entry more efficient. There are six different types or categories of shortcut keys:
General
Dates - my favorite category so I talk about it below
Editing
Help window
Activity - I give you a few of my favorites below
Moving around in a window
If you key in "keyboard shortcuts" to the QuickBooks® help menu, the above categories will come up. Click on the one you are interested in. Take the time when learning QuickBooks to memorize the shortcuts ... it will save you time.
My favorite shortcut keys are the dates. It is really quick and easy to enter dates using these shortcuts. They work in the desktop version AND online version.
The + or - key can be used to increase or decrease the date by one day to the next day or the previous day. Please note the - does not work in QuickBooks Online Canada at the time of this writing.
Typing T in the date field will give you Today's date.
W gives you the first day of the Week

K gives you the last day of the Week.

M gives you the first day of the Month

H gives you the last day of the Month.

Y gives you the first day of the Year

R gives you the last day of the Year.

If you want the date calendar to pop open, your shortcut key is Alt + down arrow.
As you can see, the keys are easy to remember because they are tied to what you want to accomplish and they are not case sensitive ... one of the reasons these are my favorite keys ... I can actually remember with no effort. That is great accounting system design.



A few activity shortcut keys that are very useful ... but only in the desktop version.
Ctrl + G ... transfers you to the line/entry of the account register directly from the entry you are in ... a real time saver when working on the bank reconciliation and one of my all time favorites!
Ctrl + M ... is one I use frequently to memorize a recurring transaction or report.

Ctrl + T ... takes you to your memorized transaction list.
Ctrl + Y ... opens up the transaction journal so you can see the entry in debits and credits ... bookkeepers like this one. :0) It's especially useful when using the forms to see the other side of the entry.

In the 

QuickBooks®

 online version, look for "More" in the module you are in ... usually near the bottom right menu bar. You will see "transaction journal" in the popup menu. See the image on the right hand side below.

Ctrl + I ... quickly opens a customer invoice.

Ctrl + A ... brings up your COA but I prefer use my icon bar to get to my COA.



F2 let's you see the number of vendors, employees, and customers ... and the version you are using along with what updates have been installed.

F1 gets you to the contextual Help menu ... which helps to let you exhale while you are learning QuickBooks®! :0)
In QuickBooks® Online Canada you do have some keyboard shortcut keys ... just less of them. You can view your options by pressing your Control+Alt keys simultaneously. I suggest you take a snapshot of the table and keep it open on your desktop while you are learning your options.

What are your favorite shortcut keys in QuickBooks®?
Learning QuickBooks® ... The Reporting
Follow these links for customized QuickBooks® reports and other useful information to assist the management of some of your balance sheet accounts.
How QuickBooks® Handles HST/GST
if you are an HST/GST registrant
(GST collected vs GST paid [ITC])


Do you have a customized QuickBooks® report that has made your job easier?
The Forum

Ask A Learning QuickBooks® Question Here


Are you learning how to use QuickBooks®? Maybe this forum can help you out ... it is strictly for beginner's ... no advanced stuff here.

Ask your beginner QuickBooks® questions here ... I promise the answer won't be to go talk to a professional.

Hopefully others who know QuickBooks® will join in too ... offering to share their expertise.

Contributions to this site are moderated. They may be edited for grammar, spelling, and presentation. (I may even change your title if I think it will help the search engines find your page.)

Your contribution will appear below once it has been approved.


Learning QuickBooks® Questions & Answers
Visitors Have Already Asked ...
Click below to see the contributions that have been made already. Enter the discussions. There is usually more than one right answer or more than one way to do something ... so tell us what you think!


You can help make Learning QuickBooks® better by adding your comments and ratings to one or more contributions.
That's it for today. I hoped you enjoyed this introduction to learning QuickBooks® and found the information useful, practical ... and not too overwhelming.
It's been great chatting with you .
Your tutor Lake

---
---
10 Part QuickBooks® Primer
Click on any image below to go to the chat.
QuickBooks® is a registered trademark of Intuit Inc. Screen shots © Intuit Inc. All rights reserved.

Click here to subscribe to QuickBooks Online Canada. I do not receive any commissions for this referral.
---
---