Learning QuickBooks Online | Focus on Bookkeeping


Recording Foreign Deposits
by L. Kenway BComm CPB Retired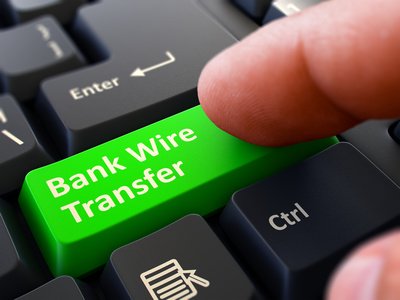 Recording Foreign Wire Transfers In QuickBooks Online
How do you record a QBO foreign deposit when the customer paid the invoice by wire transfer with service fees deducted by your bank?
This is a complex transaction because it involves multi-currency and receiving amounts due with service fees deducted.
Warm up your tea and let's get started.
Step-by-Step Instructions For QBO Foreign Deposits Data Entry
Step One - Find the invoice you want to receive payment on in the customer module. In my example we are receiving a payment for invoice #1018 billed to Blakey Group for $1,500 USD (U.S. dollars). My home currency is Canadian dollars (CAD).

QuickBooks Online Customer Subledger
Chat Continues Below Advertisement
Step Two - Click on receive payment.
Step Three - Fill in the form as follows:
In the exchange rate field, enter the exchange rate your bank shows the transaction was converted at. We are using 1.3256 in this example.
Enter the date you received the funds.
Select the payment method. I like to add a new item called "Wire Transfer".
In the Reference Field I like to put something relevant to me usually related to how I think I would look it up if I need to retrieve the transaction.
Deposit the wire transfer to the account called Undeposited Funds. It is very important that you DO NOT deposit this to the bank directly. If you do, we won't be able to account for the service fees in one transaction which makes doing the bank reconciliation a bit tougher than it needs to be. Here I would probably make a reference to the bank deposit amount of $1963.40 CAD.
Enter the amount received in USD not CAD. Your CAD amount is recorded by you inputting the correct exchange rate amount.
I usually make a note here on the wire transfer details. For example - $1500 USD = $1988.40 CAD. Wire fees $25.00. Net bank deposit $1963.40 CAD.
Attach the wire notice or anything else you have to support the transaction in the attachments box.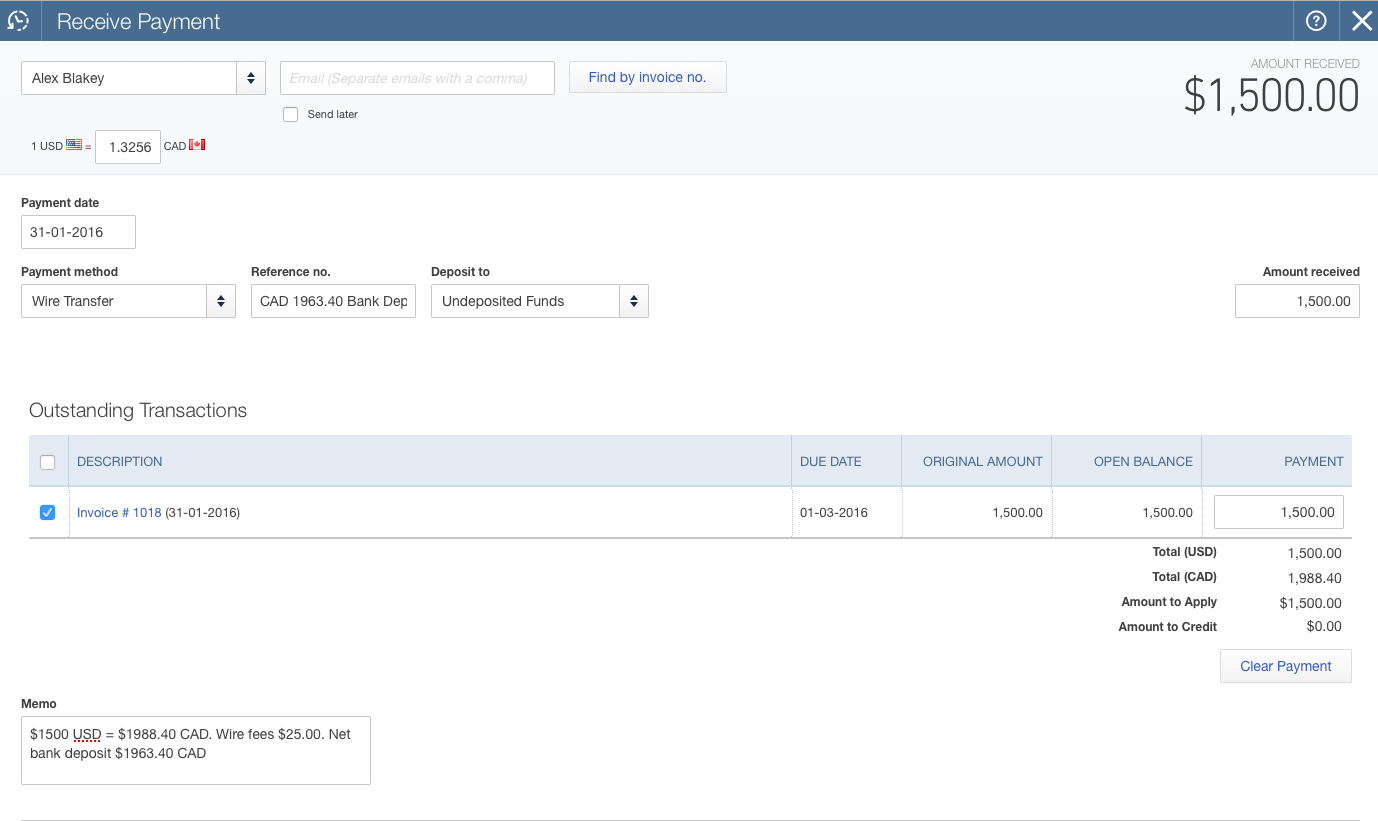 QuickBooks Online Receive a Foreign Invoice Payment
Step Four - Click on the Quick Create menu at the top of your screen (the + sign) and select Bank Deposit.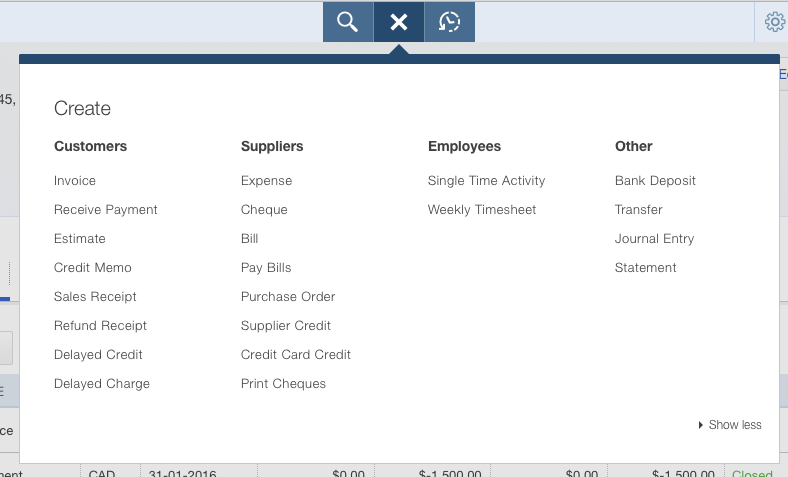 QuickBooks Online Quick Create Menu
Step Five - Fill in the form as follows:

Select the account where the wired funds were deposited. In our example, the funds were wired and deposited into our Canadian checking account.
Select the date they were deposited.
Select USD United States Dollar and enter your exchange rate. We are using 1.3256.
Under Select Existing Payments, select the USD invoice amount received. In our case it is $1500.
Under Add New Deposits, enter the bank's wire transfer fees deducted from the gross amount prior to the bank deposit. In our example it is $25.00 CAD. You will have to manually convert this amount and enter it in USD. In our example that means that $25 CAD / 1.3256 = $18.86. This amount is entered as a negative number as it reduces the amount of funds you are receiving. Bank fees are exempt from sales tax.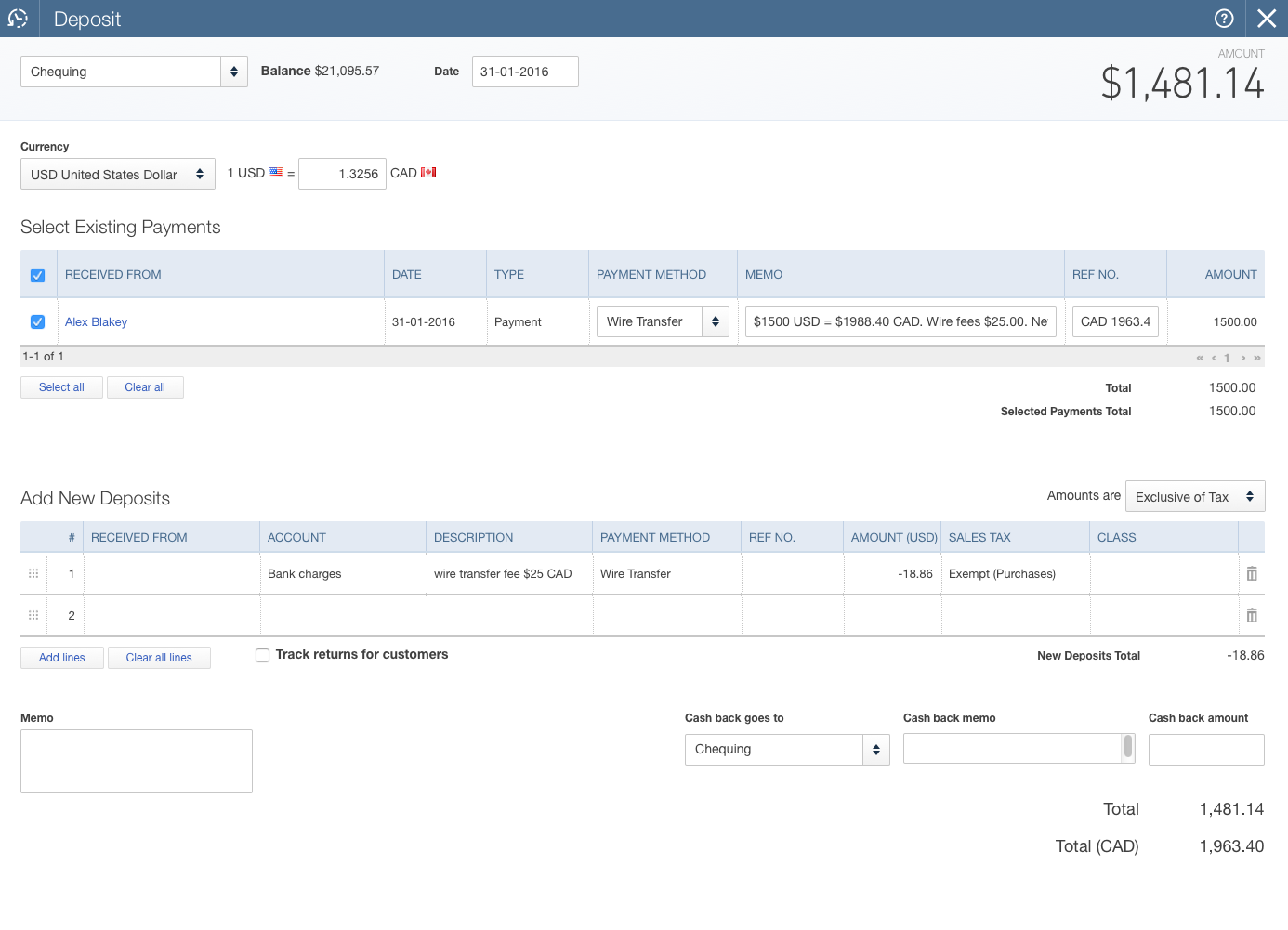 QuickBooks Online Foreign Deposit Net of Bank Fees
When dealing with QBO foreign deposits, it is very important to break down what you are doing and THINK as you go. Take the time to understand why you are doing each step to get to your end result. Your newfound knowledge will allow you to book other complex transactions.
It's been great chatting with you .
Your tutor Lake

---
---
10 Part QuickBooks® Primer
Click on any image below to go to the chat.
QuickBooks® is a registered trademark of Intuit Inc. Screen shots © Intuit Inc. All rights reserved.

Click here to subscribe to QuickBooks Online Canada. I do not receive any commissions for this referral.
---
---