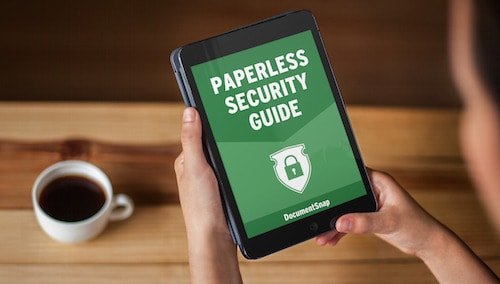 Paperless Security Guide

How To Keep Your Electronic Documents Safe and Secure
The Paperless Security Guide is Brooks Duncan's newest guide and includes a checklist ... gotta love checklists!
There are things you can do to protect your paperless documents. Best of all, you don't have to be a computer wizard or security expert to do them. They're easy. Brooks Duncan's newest guide explains exactly what to do and how to do it in friendly plain English.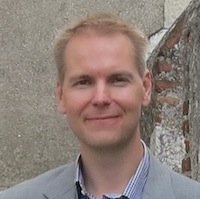 Mr. Paperless
by Brooks Duncan, CMA
Author of Paperless Security Guide

Brooks is devoted to helping individuals and small businesses go paperless by turning piles of paper into an organized, electronic system.



What do I need to do to
avoid losing my documents?...
What happens if hackers break in?...
Is it safe to use the cloud?...
These are all actual questions I've received from DocumentSnap subscribers and readers…
In fact, paperless security is one of the biggest questions I get, and it's understandable. At least with paper we can hold, touch, and see it. We can lock up a drawer. With electronic documents, it's harder to know how to keep them safe. Now it's my turn to ask you a few questions…
What if you could get back a deleted document with a few clicks of your mouse?

What if you could be up and running again after a hard drive crash in less than a minute? 

(I'm not kidding here. It's possible.)

What if you didn't have to worry that someone could read your tax return if your computer gets stolen?

What if you could use your computer in Starbucks without worrying about that shady kid at the next table stealing your passwords?
I'm guessing that this would make the prospect of going paperless at least a little less scary, right?
That's Exactly Why I Created My
Paperless Security Guide
This is the stuff that I do to protect my own paperless documents, and the advice that I've been giving to people one-on-one for years.
The Guide also includes my 1-page Security Checklist. It walks you through what actions you need to take (and which are optional) to make sure you are protected.
FOR $7 USD ...
Know how to back up your documents (and get them back)
Know how to lock up your documents so no one else can see them
Know how to keep yourself safe on the cloud
Here's What You Get When You Order Today:
The Paperless Security Guide PDF
Your Security Checklist
Peace Of Mind Knowing Your Documents Are Safe
Brooks' 60 Day Guarantee

If for some unlikely reason this Guide (or any of his products) doesn't end up being right for you, just let Brooks know. He'll do his best to help you out, and/or provide a super fast refund. Your purchase is 100% Risk Free!
Vancouver consultant Brooks Duncan from DocumentSnap has published the following paperless tools to make paperless transitioning easy-peasy. I relied on these guides when I began the move to working virtually  ...
ALL DocumentSnap Documents
In ONE Bundle
Released in June 2016
Here's what the Paperless Power Bundle includes:
Document Search Guide
Paperless Security Guide
Unofficial ScanSnap Setup Guide
Paperless Document Organization - Platinum Guide
Save 20%. Get your bundle here for just $54 USD.
Keep Your Document Safe
Version 2 Released November 2016
Here's what the Paperless Security Guide covers:
How to back up your documents
How to secure your documents using encryption
How to protect your information in Evernote
How to keep your information safe on the cloud
How to keep your information safe on public networks
It's tied together with a Security Checklist at the end, so people know what they need to do to take action. Get your copy here for just $7 USD.
You Want Findable Documents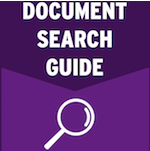 Released May 2016
Here's what the Document Search Guide covers:
How to avoid losing documents
How to find the document you need when you need it
Learn how the 80/20 rule applies to searching
Master search on Windows, Mac and Evernote
It's tied together with a Document Search Checklist at the end, so people know what they need to do to take action. Get your copy here for just $7 USD.
Master Your ScanSnap

New Edition Released September 2016

The Unofficial ScanSnap Setup Guide takes the pain involved with setting up your scanner. Skip your fast food lunch today. Ease your setup pain for $10.

Highlights of the Fifth Edition:
Organize, Find, and Protect

New Edition Released August 2015

Highlights of the Second Edition Paperless Organization Guide:

How should you name your files and what should your folder structure be?

How do you find your documents once you've filed them?

What are the pros and cons of each major Mac and Windows software package, and who should buy which one?

Should you store your documents in the cloud? If so, where?

How do you handle receipts? How about business cards?

How do you keep your documents safe and secure?

How have others gone paperless, and how do Professional Organizers recommend that you do things?

To learn how to turn your piles of paper into an organized, electronic filing system, click here. Pricing starts at $15.

Do NOT Go Paperless Without
Thinking About Security
You have a lot of options when it comes to going paperless, and it can be easy to get stuck in analysis paralysis. We've all been there. However, you CAN'T get started without having your documents protected. Brooks has received too many emails from people who have lost documents, and he doesn't want that to be you. It's not complicated to set up ... you just need to do it and you'll be ahead of 90% of people out there. Get your copy of the Paperless Security Guide here.