Donating Gift Certificates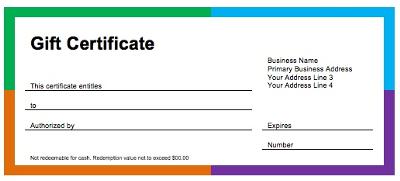 Accounting for Gift Certificates Donated
How do you track the gift certificates you've issued as donations without overstating your expenses, ie reduction in inventory and promos?





Excellent question!
I would think you would want to track the gift certificate as a sub-account (called "Donated Gift Certificates" or something similar) in your liability account "Gift Certificates Outstanding" ... but the sub-account is not a necessity.
I also think you input the value of the certificate at
zero
as there is no income, sale or cash received related to this transaction. Your entry would be debit "Cash" (or "Petty Cash" if you don't have a cash account) and Cr "Donated Gift Certificates". What this does is acknowledge that you have a potential liability sometime in the future.
If and/or when the lucky person redeems the gift certificate
, you would make a
zero value sale
debiting "Donated Gift Certificates" and crediting "Sales". This removes the outstanding certificate and acknowledges you no longer have the potential liability.
Assuming you are talking about a product and not a service ... next you would reduce (credit) your inventory
at cost
for the product donated and debit "Promotional Gifts" (an expense account) not "COGS" as it wasn't a sale.
If the donation was a service, there is no entry to make on the expense side of the transaction as there is no cost associated with services on your books.
I might consider making "Promotional Gifts" a sub-account of my "Advertising and Promotions" expense account to keep my chart of accounts tidy.
CRA has a good page with other references on how to treat gift certicates at
Businesses>GST/HST/General> Taxable or exempt> How to treat coupons> Gift certificates
. The only difference I can see for treatment is that you will be expensing it to promotional gifts instead of COGS.
I did make the assumption that the gift certificate was not donated to a charity when creating the entries. If it was a charitable donation where you received a tax receipt, I would take a look at CRA's publication
Memorandum - Donations of Gift Certificates
found under
Charities> Policies and Procedures
at http://www.cra-arc.gc.ca/chrts-gvng/chrts/plcy/gft_crtfcts-eng.html .
I think that is how I would handle it. Does that make sense to you ... have I missed anything? This felt like an exam question! :0)
P.S. I would like to remind you there is a difference between information and advice. The general information provided in this post or on my site should not be construed as advice. You should not act or rely on this information without engaging professional advice specific to your situation prior to using this site content for any reason whatsoever.