Membership Shares of a Credit Union
by Sharon
(Calgary)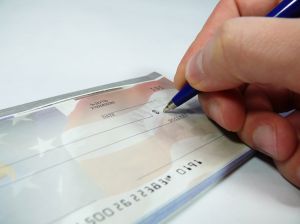 How to Record Member Shares
I have a client that just opened up an account with a credit union. They gave the bank an initial deposit of $15 to open up the chequing account and $25.00 for a share membership.


The $15 shows up as a deposit in the chequing account but the $25 shows up as deposit under a different section of the statement called Membership Shares.
Do I need to create a new asset account for this membership? If so would the bookkeeping entry be?
Dr Bank: Membership Share $25
Cr Shareholder Acct $25

Hi Sharon,
Yes you need to account for the shares separately.
Create a "bank type" account for the Credit Union Equity Shares and debit it for the $25. The offsetting credit would be wherever the money came from. If it was a shareholder account then your entry is correct. This is the entry I would make assuming the $15 to seed the account also came from the same source:
DEBIT CU Bank $15
DEBIT CU Equity Shares $25
CREDIT Owed to Owner/Shareholder Loans $40 (I have this setup as a "credit card type" to make it easy to reconcile to expense reports, etc.)