Sales added to filed GST period
by Brenda
(Calgary)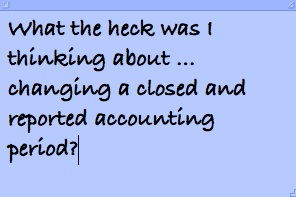 In a moment of lunacy it seems I've edited customer invoices and increased the invoiced amount thereby increasing sales revenue in a prior GST period.

How can I fix this? I don't really want to go back and move the added revenue to the current period.

How can I "catch up" so I'm on the straight and narrow?





Hey Brenda,
Before I answer your question ...
... help me out here and explain why you were adjusting a sales invoice that a customer would have already received :0)
... I assume this because you say you have already filed your GST/HST report.
Just answer back by clicking on the "Click here to add your comments" link below.