Using Quickbooks Essentials in Canada
by Cee
(BC)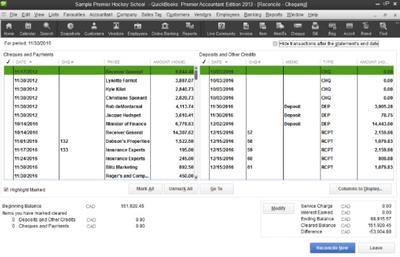 You still need to do the bank reconciliation when you use online banking.
Hi there fellow bookies!!

I have a new client using QB Essentials, the online QB version.

I'm looking for someone who is familiar with doing the bank recs through online banking.

This is new ground for me and I'm having a bit of trouble with the concept. I like the paper statement in hand but I'm being told you don't need to crosscheck against a paper statement because the info comes straight from the bank...voila!

Fact or fiction???

I've been all over the net looking for a tutorial but nothing really great. This client has 12 accounts and downloads hundreds of transactions daily...I can see why he would use this method given the amount of info.

Can it be trusted...?

Thanks to anyone who can make me a believer..
signed,
an old school bookkeeper

PS...thank you so much Lake, for the opportunity to use your forum. I'm certain I'm not the only one who appreciates all your efforts.





Cee,
The online banking features in QuickBooks are a useful tool to assist in making the bank reconciliation easier. It does not replace doing data entry or doing bank reconciliations.
Downloading the electronic transactions from the financial institution's online banking options/features can sometimes make it easier to do the bookkeeping and assists in doing the bank reconciliation ... but you still need to go through the bank reconciliation process.
The downloading of electronic transactons just downloads the banking transactions. If it is not done frequently enough, some transactions may be missed as most banks have limits on how much data is available for downloading. In some cases, for certain types of transactions / accounts, there is only 30 days worth of transactions.
What IS nice is, if you have been doing the bookkeeping regularly ... by that I mean entering the transactions from the paperwork and e-receipts, QuickBooks automatically matches transactions that have been entered. It puts a matched symbol (looks like a bolt of lightning) in the cleared column. This is not the same symbol as reconciled (R) or cleared (c).
Transactions that haven't been previously entered will be "unmatched". You can choose to add the transactions individually or in groups. In some cases, you may have to manually match transactions that QuickBooks didn't or couldn't match automatically. This makes data entry a bit easier, maybe more efficient ... however at this point, the bank reconciliation is NOT done.
You still need to have the physical bank statement on hand ... paper or e-statement ... so you can begin the bank reconciliation. This is done by going to the Banking drop down menu (or the home page flow chart banking section) and selecting the reconciliation option.
Proceed as you normally would to do a bank rec.
If you rely on the online banking features in QuickBooks to do the data entry, the client will have a few very BIG problems if ever audited. Downloading transactions by itself does NOT provide audit ready books. Auditors are picky that way. They want to see source documents including the bank statement. ;)
Problem One - you have to still go through every transaction to make sure you have the source documentation on file to support the expense and/or to determine if the deposits were income, contributions or loans.
Problem Two - you need the source documents to record the expense details correctly such as what was purchased, shipping charges, sales tax, any penalties or interest charged ... you get the idea.
Problem Three - you need the source documents to record the deposit information correctly such as who was the customer, what did they purchase, was it taxable. Or perhaps the funds were a contribution from the owner or loan proceeds.
Hope this response helps Cee. You or your client may also be interested in reading my chat on
why reconciliations are necessary
. In this chat I do discuss bank reconciliations.
One last word of caution. Anyone doing banking downloads in Canada should not be providing the software developer direct access to automatically import your transactions. It violates your online banking agreement. You will need to manually download then upload the transactions to stay in compliance with your banking agreement.
PayPal does have an option for you to assign third party access to download your transactions. Using this feature ensures you have not provided your password to anyone and limits their access to your account information. I wish the Big 5 banks in Canada would come onboard and introduce this feature.
It is important to be compliant with this restriction because if someone were to fraudently access your banking accounts, the bank will not cover your losses if you provided a third party access (i.e. the software developer) to your online account.
P.S. I would like to remind you there is a difference between information and advice. The general information provided in this post or on my site should not be construed as advice. You should not act or rely on this information without engaging professional advice specific to your situation prior to using this site content for any reason whatsoever.