Bank Reconciliation and Cashing of Stale Dated Cheque
by Mary
(Toronto, ON, Canada)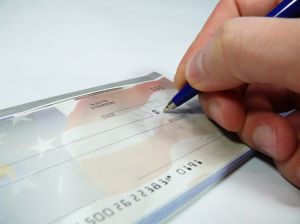 Bank Reconciliation and Cashing of Stale Dated Cheque
Recently, one of our vendors deposited our cheque in bank which was dated last year and the bank cleared it.

Assuming the bank would consider the cheque stale-dated and therefore not process it, I re-entered that amount in QuickBooks last month to remove the cheque in the outstanding list in my bank reconciliation.

Now I cannot finish my latest reconciliation since this amount has been cleared by me and I am stuck. Any help in this regard will be much appreciated!





Hi Mary,
Unfortunately, banks no longer scrutinize cheques for dates as part of their processing routine so they often don't catch them anymore. From a bookkeeping perspective, you were correct to reverse the stale-dated cheque.
You just need to use "Write Cheque" to re-issue the cheque using the date the cheque was cashed IF the amount is NOT showing in your Accounts Payable.
If the amount IS showing in your Accounts Payable as outstanding (depends on how you did your reversal), just pay the bill again using date the cheque was cashed.
By using the "cashed cheque" date, you should not be affecting any closed periods. Make sure you put a good memo explaining "your story" and quoting the invoice number.
Does this sound reasonable to you?