How to Record and Track Deposits

(Calgary, AB, Canada)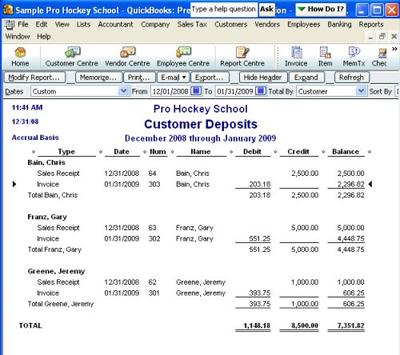 Create A Customized Report To Track Customer Deposits
I charge an initial deposit for new clients which is an advance payment for services. This deposit is applied against hours charged based on an hourly fee.

I am not sure what the best method to record this payment would be. I don't believe recording it as revenue (DR Cash, CR Revenue Account) is correct as the money has not been earned until the services are performed. Or should I set up a liability account?

In addition, I don't know how to structure the GST. I don't believe you charge GST on a deposit, rather you show it on the invoice/statement and take it off as work is performed.

What paperwork would I provide to the client initially? A receipt or an invoice showing the amount of the deposit.

I don't know if Simply Accounting (now Sage) issues receipts, rather invoices. Then periodically I would like to issue client an invoice to show hours billed and balance on deposit.

HELP!

I was also trying to find my last question I submitted last week on your forum but was unsuccessful.





Let's start with your last comment. You didn't post your name or let me know what your question was ... so I'm unable to help you find it on the forum.
Questions and answers are posted to the topic they pertain to. You can find a listing of the various
Q&A pages here under "Choice Two"
or check to see if it is listed under
The Bookkeeping Blog
.
Also, when you submit a question, be sure to click on the box that says it will notify you when your question has been answered.
You will find the journal entries and my notes for
How to Record and Apply a Customer Deposit, or Prepayment, or Receipt of an Advance Payment
in my reference page of Common Journal Entries.
I also explain
how to create a customized report
in QuickBooks to track your deposits once they have been entered. Perhaps you could modify the instructions to work in Simply Accounting (now Sage).
Hope this helps.
P.S. I would like to remind you there is a difference between information and advice. The general information provided in this post or on my site should not be construed as advice. You should not act or rely on this information without engaging professional advice specific to your situation prior to using this site content for any reason whatsoever.
I apologize to my readers ... but while converting this submission to upgraded software, I lost all comments associated with this posting. The post was originally submitted in the August 2011. Lake