Unclaimed Business Expense
by Sharon
(Calgary, AB)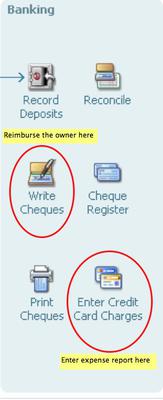 Reimbursing Business Expenses Paid With Personal Funds
My client paid for a business expense with his personal credit card in Jan 2013 but forgot to expense it.

He has provided the receipt along with an expense report and would like me to reimbursed him now.

Can this transaction be posted with today's date (Jul 2013) and processed as usual or do I post this transaction back to the original purchase date of Jan 2013?





Sharon,
I post these types of transactions to the earliest "open" date or the date of the expense report. I use the reference field to input the original expense date.
So let's say your books are closed to June 30, 2013. I would date this transaction July 1, 2013. In the reference field, I would put Jan 2013. I'd also write a good note in the memo field including saying the source is from an expense report. IF you have to look the receipt up in the future, it makes it easier for me to find.
The method I use to
track and reimburse personal expenses
is discussed in my Audit Trail chat.
P.S. I would like to remind you there is a difference between information and advice. The general information provided in this post or on my site should not be construed as advice. You should not act or rely on this information without engaging professional advice specific to your situation prior to using this site content for any reason whatsoever.