Developing
Your Accounting System
System Options - Manual or Comupertized
System Software and Procedures - Your Chart of Accounts
Getting Organized - Staying Organized

Learn To Evaluate Your Recordkeeping System


Your accounting system is more than just the physical ledger or accounting software program you use. It encompasses the method you setup and use to …


... track each receipt received and invoice issued as it progresses through your record keeping system …... to the final products - a set of financial statements and accounting reports along with your annual tax return.
Welcome to Bookkeeping Essentials - The System!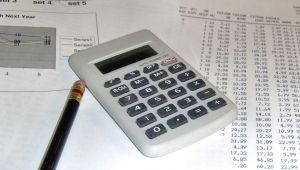 Advertisements
There are so many choices when you are starting up your business … and when your business is growing.
Setting the groundwork by having an accounting system in place will help you on the road to success and keep you out of trouble with the government tax assessor.
This section is entitled "The System" because it is going to look at:
The Three Rules of Work

1. Out of clutter, find simplicity.
2. From discord, find harmony.
3. In the middle of difficulty, lies opportunity.

-- Albert Einstein --



The best advice always is to keep it as simple as possible. Remember the success or failure of your business could come down to these two choices - (1) How you decided to keep your company's books; and (2) how skilled you were at keeping the books.
What you will find in this chat ...
Instructions on the practical side of setting up your small business accounting system processess and procedures.
Just click on any underlined title of your choice and you'll go right to the page.



Accounting Systems Options


When deciding on your small business accounting system ... how do you decide what method is best for you and your business?
The article A Yardstick to Evaluate Your Book Keeping System has system criteria and questions to ask, to help you make the right decision.
There are times when a manual system is a perfect fit ... but I will tell you that the reason I don't use manual books for my business, is no reporting.
You spend hours compiling the data and have no reports ... and the inability to search or look up a transaction or series of transaction with the click of a mouse. It's virtually impossible to use any of the data to help me make business decisions. What a waste!
Entering data, without analyzing data, is operating your business on incomplete information. The computer reports generated by small business accounting softwarepackages systematically organizes and summarizes your data in a way that is useful to making business decisions.
If you are a visual person instead of a numbers person, most small businessaccounting software can present the information graphically ... so you can easily see patterns or trends.
Having said all that, if you are doing manual books, you might be interested in how to do a quick calculation to see if you are profitable instead of waiting for the preparation of your tax return. Make sure you follow the link at the end for a quick method to estimate your cash flow as well.



Five components are essential in designing bookkeeping systems for the home based business. These components form the foundation upon which YOU, the owner will make informed business decisions.



Whether you are just starting out or have been in business awhile, how do you know if your book keeping system is the right one for your business? There are just so many choices.
In this article, you will find questions to ask ... and a list of criteria to help you make the choice that is best for your business.



This article is only available to subscribers with an Insider's Pass. Click here to access the article.
This article discusses how some simple internal controls and segregation of duties can reduce the probability of fraud and help ensure that future tax audits go well. It only takes one bad tax audit or one successful embezzlement scheme to put your business' survival at risk.



---
Getting Organized
Simple File Organization Systems



Learn How To Organize Files
With This Easy Office Filing System
A professional bookkeeper with over 40 years experience developed this easy office filing system to make her life as a bookkeeper easier.
It started as a way to help her clients organize and track all of their paperwork.
Learn how a professional bookkeeper files receipts and more.


---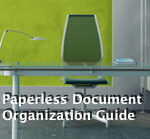 Paperless technology lets you organize your documents like never before ... and it's affordable.

DocumentSnap's "Paperless Document Organization Guide" leads you easily and systematically through the process. One product, three service level choices!
In addition to information on how to purchase this extremely useful guide, you will find a link to a free eCourse on going paperless.
Once you've moved towards a paperless system ... can you ever be totally paperless? ... how you send private information to your customers / clients becomes a bit of a dilemma. "Mr. Paperless" explains the best practices in sending sensitive information online. It really isn't a good idea to send it by unencrypted email!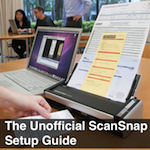 A word of caution - Scanning documents does NOT meet federal (Canadian General Standards) imaging requirements. If you scan documents, you must still retain the original source document for the CRA auditor to review. Why? Because scanned documents can be altered ... therefore they are not submissible in a court of law as evidence.
Source: CRA IC-05-1R1 Electronic Record Keeping - paragraphs 24 & 26

---
Blueprint for Success


"... [Learning] a proven system for tackling your return and sorting tax documents - you'll better meet compliance obligations with the CRA by filing an audit-proof return. Consider it a blueprint for success in making the tax preparation process work in your favor, both at tax time, and all year long, rather than against you."

-- Evelyn Jacks, author Master Your Taxes --
(I recommend this book)

---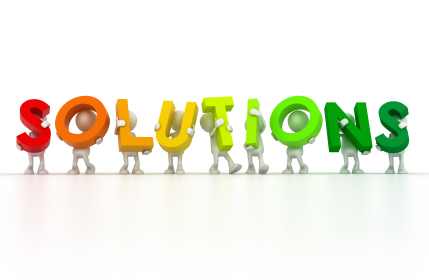 Small Business Recordkeeping Systems
Simple Suggestions to Get Organized
Are you looking for a filing system for your business receipts? Small businessaccounting organization doesn't have to be complex to work.
You may just need simple suggestions to get your small business accountingorganized in your office ... to eliminate stress and panic. Your accounting systemwon't work effectively without a good recordkeeping system.
What is the best filing system to get and stay organized so you can get rid of those drawers of stashed receipts? In this article I share my favorite filing system for keeping my business receipts organized.
If the only reason you keep bookkeeping records is for tax purposes (as opposed to helping you run your business), I suggest you look at this simple filing method. It has the added bonus of audit proofing your tax return. It will provide you with the small business accounting records you are required by law to keep.
---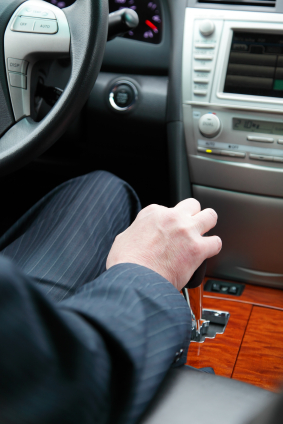 Small Business File Organization
A Portable Document Filing System
If you operate a part of your business from your vehicle, file organization is key. This portable document filing system is perfect for you to organize your bookkeeping records!
Incorporate this filing system into your home office organization and small business accounting system to manage your business receipts efficiently. It will complement your accounting system.

---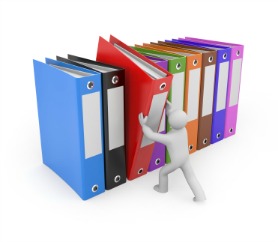 Books and Record Retention
Guidelines
Record retention requirements are determined by government for tax purposes. Get up to speed with these small business accounting requirements so you can be compliant.
This article explains what a source document (or supporting document) is. It will also discuss:
Who must keep records
What records must be kept
How you must keep the records
How long you must keep the records
How to destroy records early
---

Accounting Systems Procedures and Set-up
When you are just starting your own business, the number of decisions to be made can be overwhelming. Your accounting system is just one of them.
You will find a listing and link to government initiatives that can assist you if you are a small business owner in Canada.
You'll also want to check out DonnaLynne MacDonald's Small-Biz-Help-Desk.com ... find out more in Other Resources.
Plan ahead to customize your financial reporting package to meet your specific information needs. Use it as a tool to help run your business.



Click on the banner to watch an introductory video on
The Virtual Bookkeeper's Online Training Program.
Click on the banner to learn how to
take your bookkeeping business virtual in less than 30 days.
The Blueprint of Your Small Business Accounting System - Your Chart of Accounts
Accounting System Procedures - Who Does What and How They Do It
Accounting Systems Software Articles
This is the place to look for information on bookkeeping software packages that are a good fit with a small business operation.
You'll also find three chats I think you'll find interesting:
Three More Accounting System Options to Consider one of which is a free excel template
QuickBooks
Bookkeeping and Accounting Software
My preference is the QuickBooks accounting system ... so take a look at what I've written up so far:
How QuickBooks Handles HST/GST
if you are an HST/GST registrant
(GST collected vs GST paid [ITC])
You will find QuickBooks tips for common bookkeeping entries, some shortcut keys, and how to avoid beginner's mistakes.
There is also The Learning QuickBooks Forum where questions and answers can be posted.
I've also started a chat on how to setup QBO Canada sales tax codes for the meal split and self-assessing PST.
The Blueprint of Your Small Business Accounting System



Your Chart of Accounts
How To Use The Chart of Accounts
Your chart of accounts is something you should print out and carry with you(like a shopping list) until you become familiar with it.
When you purchase something, write on the receipt what account it should be coded to by looking through your chart of accounts listing and selecting the appropriate account.



What Is The Chart Of Accounts
So if you haven't guessed, your chart of accounts (COA) is a list of all the accounts in your accounting system. You use it to categorize then record your transactions onto ledger pages ... each account listed in your COA has its own ledger page. If you use the computer, it is an electronic page.
All the ledger pages from all the accounts listed in the COA are called the general ledger (GL).
When you want a financial report, the accounts (ledger pages in the general ledger) are summarized to produce the financial report requested.
Your COA is the blueprint of your accounting system around which everything is built. If your COA is poorly designed, the quality of your information is affected ... which could affect the business decisions you make using the information.
Normally it is numerical but with small business accounting systems like QuickBooks, it no longer has to be numerical. COA are usually organized into seven sections that are used to summarize transactions for your financial statements. Do you recognize these categories from your balance sheet and income statement?
How To Setup Your Chart Of Accounts
If your internal financial statements are prepared on a tax basis, a good place to start is to have your COA based on tax form T2125. You can customize it later.For my American visitors, take a look at the tax form Schedule C (form 1040) to get started. You can find a copy on the IRS website www.irs.gov. You will find a link to the form under Businesses> Small Business/Self-Employed> Self-Employed.If you use QuickBooks, they have a whole selection of preset COAs. Just pick the one that is structured for your industry. Again, you can customize it later.QuickBooks has the ability to assign an account to a tax line ... so you don't have to organize your COA for tax purposes. You can organize your COA for your business or industry ... and let the tax mapping report assist you come tax time. It's the best of both worlds.
You never want to have accounts that are too specific. For example, an account called utilities is good ... because it is generalized; an account named after a single customer or vendor such as Telus or BC Hydro is not so good ... because it is too specific.

As a general rule, an account should NOT be named after one product or service such as Size 10 Pants or Short Haircuts. It is better to name the account Clothing or Haircuts.

There should be NO duplicate accounts. If there are, merge them into one account. If you have different departments or locations, a software program like QuickBooks can be setup to track them using classes, but it is NOT done through multiple accounts.
Each account should be properly classified into one of the seven sections discussed above. This means capital asset accounts for equipment purchasesshould NOT be found in the expense account section.If you are using QuickBooks software, make sure you have setup the correct type of account ... not every account is a bank account type (the default).Loan accounts should be setup as a long term liability type NOT an income type.
A good COA shouldn't need more than 50 or so accounts in a small business. If you have too many accounts, you are likely to have a lot of accounts with small balances under $100. It just doesn't provide useful information at that level and creates a lot of maintenance as each account has to be reconciled regularly.Fewer accounts will ensure you have greater consistency in where transactions are coded and recorded. This means you are more likely to have accurate financial statements you can rely on.
---
Developing processes and procedures for your accounting system every step of the way in your business is essential so you can stop reinventing the wheel every time you start a new task.
Good practices and habits in bookkeeping mean accurate and timely financial statements to run your business with.
Here are some month-end procedures, accounts receivable collection procedures andinternal controls you may want to consider implementing.
This short overview on daily, weekly, monthly, quarterly and annual bookkeeping tasks can help establish procedures and a routine.


---
LET'S CHAT ABOUT ...
A Basic Accounting Guideline
The Consistency Constraint
There is usually more than one way to do something ... and it is no different in bookkeeping.
The consistency constraint says that in order to have a high degree of comparability in your bookkeeping data, you must consistently apply the same procedures and methods from period to period.
It also means that industry practices should be taken into account ... so the information is useful and valid. Consideration should be given to substance over form when applying GAAP guidelines.
It is also imperative that any departures from this principle of consistency be fully disclosed on the financial statements.
This enables a reader of a financial statement to assume that GAAP has been followed consistently during the preparation of the financial statements.
So as a bookkeeper of small business accounting ... to ensure you have relevant financial statements, you must apply this principle to your data entry.
If you end up treating an item incorrectly (from your accountant's perspective), it is easy to make an adjustment if your accountant knows you handled every transaction in a consistent manner.
Why put this principle in place? ... So figures cannot be manipulated solely to increase or decrease the bottom line.


---
Taking the time to choose and develop your accounting system will provide long term benefits.
It is the gateway to having timely and accurate financial reports so you can ...
... meet all of your financial and tax compliance obligations and responsibilities, ...
... including assisting you in audit proofing your tax return.
(WOW that was certainly a mouthful!)
Remember as you put your system in place to make it simple to use and easy to understand. Find the compromise between your needs as a business owner and your bookkeeper's needs.
To profits and positive cash flow! ;-)

QuickBooks® is a registered trademark of Intuit Inc.